Williamson J.G., Olmstead J.W., England G.K., & Lyrene P.M. (2014)
Southern Highbush Blueberry Cultivars from the University of Florida (Publication #HS1245)
Gainesville: University of Florida Institute of Food and Agricultural Sciences.
Retrieved June 27, 2016
http://edis.ifas.ufl.edu/hs1245#FIGURE%2013
Farthing
'Farthing' (US Plant Patent 19,341) was released by the University of Florida in 2007. It is vigorous and has a compact growth habit with numerous branches. Flowering occurs after 'Emerald' and 'Jewel' but before 'Star'. 'Farthing' flowers profusely and sets heavy crop,s which begin ripening along with 'Star' but continue for about six weeks, similar to 'Emerald'. Berry size is usually medium, due to heavy crop loads, but can be large with lighter crops. Berry firmness is exceptional, with a nearly crisp texture. Scar and flavor are good. Berry color is darker than average, with below average uniform color development at ripening, due to a tendency for the stem end of the berry to remain red or purple, especially when plants are carrying heavy crops. Preliminary trials suggest that 'Farthing' may have above average mechanical harvest potential compared to other southern highbush cultivars currently grown in Florida.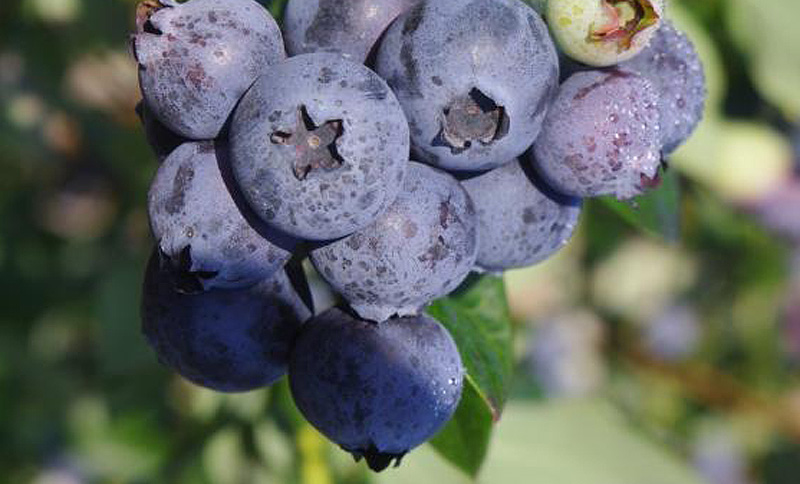 Photo Credit: Jim Olmstead
We are a wholesale outlet for COMMERCIAL GROWERS ONLY. NO RETAIL SALES.